I received my Commodore 64 ZoomFloppy PCB designed by Nate Lawson and manufactured by Jim Brain in today's mail. I was lucky to get one of the first ZoomFloppy's off the production line.
Check out the fancy packaging and ZoomFloppy label: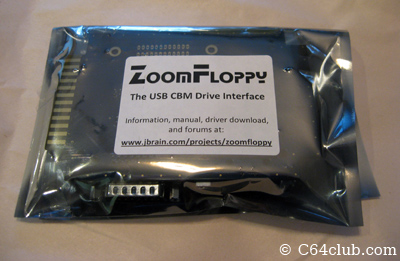 The ZoomFloppy interface includes on board ports for IEC-based disk drives, connectors for the various Commodore drive parallel cabling systems, and IEEE-488 connectors for future expansion capabilities.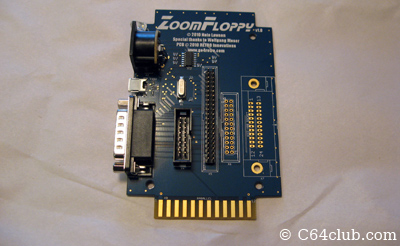 Here you can see the IEC port and the mini-USB port up close: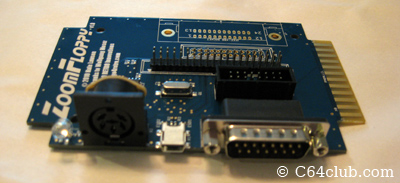 Here's a little more information about what you can do with the ZoomFloppy:
Archive your Commodore floppies (and CMD HD partitions) to your contemporary PC, without the hassles of external parallel ports, IRQ settings, special adapters, bulky cables, or the alphabet soup of disk drive cable adapters. ZoomFloppy replaces all X*-1541 cables with a simple USB-based hardware device guaranteed to work with today's machines, using today's multitasking operating systems. Simply plug into any free USB port, connect your CBM drive via a serial cable, and transfer data to or from your software collection.
ZoomFloppy Features:
Attach any CBM serial drive to your PC
Works with Windows, OS X, and Linux
Open Source solution, no vendor lock-in
Active development community
Minimal footprint, no external power supply needed
Parallel access hardware support
Over the next few days I'll be testing the ZoomFloppy to see how well it works. Since it was designed by Nate Lawson and built by Jim Brain, I can only assume it's going to be rock solid.
Availability is currently very limited on the ZoomFloppy, but if you have the means, you should pick one up from the official ZoomFloppy ordering page.
Also, you can expect to see and use the ZoomFloppy at future Commodore Computer Club meetings, so be sure to come and check it out in person.
If you like this post, please consider subscribing to our full RSS feed. Be sure to also Like Us on Facebook and Follow Us on Twitter.