Heads up Commodore friends and enthusiasts! Roland Hermans – the creator of PSID64 has released an update to his SID music player: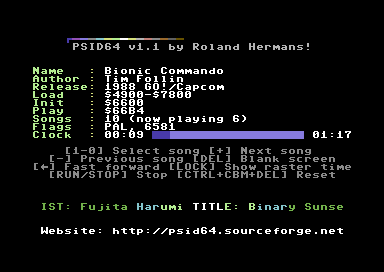 If you like SID Chip Music, be sure to Download PSID64 1.1 for your C64 computer. Here's a little 8-bit of information taken from the official PSID64 website:
PSID64 is a program that automatically generates a C64 self extracting executable from a PSID file. The executable contains the PSID data, a pre-relocated player and may also – if there is enough space available in the C64 environment – contain a demonstration program with information about the PSID file.
The PSID64 program allows Commodore users to play PSID files (originally used by the PlaySID program) on a real Commodore 64 computer. Totally Rad!
For those of you who don't have a original Commodore 64 computer, you can also enjoy PSID64 with an emulator such as VICE. Now go get a real C64

If you like this post, please consider subscribing to our full RSS feed. Be sure to also Like Us on Facebook and Follow Us on Twitter.