At our upcoming August 6, 2010 Commodore Computer Club meeting, special guest and good friend "The Immortal John Hancock" from the Portland Retro Gaming Expo will be doing a Commodore VIC-20 Mega Cart presentation.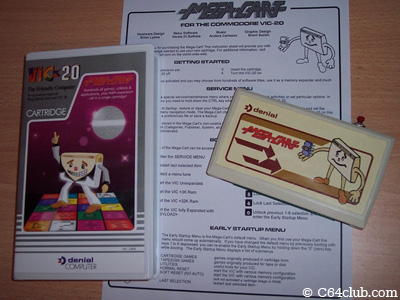 The VIC-20 Mega-Cart is a multi-purpose cartridge for both PAL and NTSC machines that allows you to play all known cartridge games released for the Commodore VIC-20 plus a selection of some of the best games released on tape or disk.
John Hancock is a long time video game collector, and a hell of a nice guy. His collection of games is only exceeded by his huge breadth of game knowledge, and his willingness to share the hobby he loves so much with others. He runs popular game tournaments in his spare time and is the founder of Cowlitz Gamers for Kids.
We've got a lot of other cool things planned for the upcoming PDX Commodore Computer Club meeting, so mark your calendar and be sure to attend. If you know anyone in the Vancouver, WA or Portland, OR metro area who's into Commodore computers and programs, be sure to bring them along. We always welcome new people to the meetings.
If you have any questions, feel free to contact us anytime. You can also follow us on Twitter and also add us as a friend on Facebook.
If you like this post, please consider subscribing to our full RSS feed. Be sure to also Like Us on Facebook and Follow Us on Twitter.